What is a HyFlex Teacher and why does she have confessions? Great questions.
My colleague and friend, Melissa Thompson, clarified the term HyFlex for us.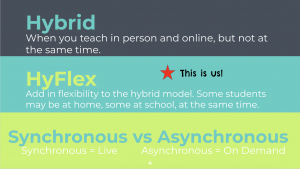 So now that we all understand that I am teaching Grade 2 students online and in person, while never knowing which students will be where until I show up to school in the morning, let's dive into these confessions.
Confession #1 – it has been too long since my last blog post.

I had every intention of creating a new post prior to the school year starting with my goals for a new year. Then Pre-Planning week creeped up on me so quickly that I decided to abort that mission and adjust my plan to simply create a new post after the first or second week of school in order to share some initial thoughts and reflections on HyFlex teaching in a pandemic. Seeing as we are approaching the end of October, it's safe to say I unintentionally aborted that mission as well. So here I am, just a couple of weeks away from writing my first term report card comments, deciding that today would be a great day to write my first blog post of the 2020-2021 school year. Last spring, I reflected on my school year and stated that I would be blogging more frequently in order to avoid 2,000 word long blog posts at the end of the year.. as you can see, I am not off to great start. Maybe I need to engage in a Teacher Blogging Challenge, like the Edublogs Student Blogging Challenge (does that even exist?), in order to get into the habit of consistently posting. If it doesn't already exist, I think I know a few people who could get one up and running!
Confession #2 – I look back at March and laugh at myself for being overwhelmed
I remember feeling extremely overwhelmed and exhausted on March 17th – the night before our first day of distance learning. Don't get me wrong, I wasn't lying last spring when I said that I was excited and having fun trying out remote teaching… but I was definitely also feeling overwhelmed after spending 5 straight days at a desk, wrapping my head around the school closure, planning to teach online for an unknown amount of time, and creating schedules complete with links to live google meets, as well as PDF print outs, online resources, and pre-recorded asynchronous lessons. Looking back on that now, I can't help but laugh at myself. There are some days of HyFlex teaching where I wish I could go back to having all of my students online with their own devices. It just seems like it was a much simpler time. Some may say this sounds negative – to be so stressed with HyFlex that I would rather go back to distance learning – however, I view this as the greatest sign of hope and capability. The way I see it, if I was able to overcome those initial feelings of being overwhelmed and exhausted enough that I currently *sometimes* daydream about being back in distance learning, I can also overcome the exhaustion and overwhelming feelings that have emerged over these last 7 weeks of HyFlex teaching. I think this is a true testament to how much we have all grown as educator's through this pandemic.
Confession #3 – I wish I could find the time to do more I need to remind myself that it's ok
In the last week or so, I have found myself looking back at last year and feeling a bit defeated. By this time last year, I had already hosted my own Twitter Chat, I had launched the GRA and my class Twitter accounts, I had all of my students working on developing their technology skills through my computer lab curriculum, and I just felt like I was accomplishing some pretty amazing things. Currently, I am still working on getting into a groove with my teaching, I am not using Flipgrid or Classkick nearly as much as I would like to, I am rarely tweeting, and even though I am spending A LOT of time prepping/planning, I still wish I had more hours in the day. My original plan for this section of my blog post was to share a long list of my goals, next steps, and to-list for my own professional growth. However, I feel like many educators (including myself) need the reminder that IT IS OK TO SLOW DOWN AND BREATHE. We are all in unchartered territories and everyday is an exploration of professional development and growth, whether it feels like it or not. Of course, anyone who knows me knows that I am forever a lifelong-learner. So, while I am taking this opportunity to remind myself (and you) to pause, breathe, and be proud of what you have accomplished this year (rather than focusing on what you have not yet accomplished), I am still working on my list of goals, PD opportunities, and learning experiences that I would like try out with my students. I think now is a great time to circle back to confession #1 and say that I will be saving my next steps, PD updates, and reflections on upcoming teaching experiences for my future blog posts – which will be coming in the NEAR future.
For now, I will sip my coffee and enjoy the colours of the leaves outside my window.
Most importantly, I will breathe.