If you have been around here a while (this is assuming people actually read my blog) you might know that I have been focusing my professional development on Structured Word Inquiry for the last two (plus) school years. A quick recap; in 2020-2021 I was learning about SWI as a way to teach spelling in Grade 2. In 2021-2022 I prototyped this in my class by teaching spelling using SWI, gathering data, and determining that this was a way of teaching that was worth scaling out and spreading amongst our primary teachers. Now, I am watching my prototype baby grow and start to trickle into classrooms that aren't mine!
At this time last year, I published a post titled "The Power of Doing". I discussed how I was starting my second year of SWI and shifting the way I was teaching it in my classroom. I saw how the power of doing really impacted my students' learning.
A year later, and here we are… talking about the power of spreading. 
At the end of last year, I blogged about my SWI prototype and how my plan was to scale it out amongst the primary teachers at my school. We (Sharon Reichstein and I) started by hosting a workshop in August for the primary Language Arts teachers at my school. Rather than teaching about SWI, we created a presentation filled with tools, videos, activities to do in class with their students.
Even after a full day of learning (on a hot summer day), the excitement was high! It was the first time that the teachers finally felt like they had tangible tools and activities to try in their classrooms!
The following week, we started setting up our classrooms for the upcoming school year and I was delighted to see so many of the primary teachers adding Prefix / Suffix walls to their rooms! As students dive into morphology and the structure of words, the plan is to add all of the different prefixes and suffixes they find to this board!
As the school year started, it was so exciting to finally see the excitement for SWI spreading around the primary classrooms!
I was overjoyed when the Grade 1 teacher, Karissa Zuorro, asked me to co-teach a lesson to her students on suffixes! We looked at a base word that is so often used in Grade 1. Diving into the base <help> led us to discussions about the <-ing>, <-er>, and <-ed> suffixes! These students were excited to learn about some of the different sounds <-ed> makes AND that the letters <ing> aren't always a suffix (like in the word <ring>).
The Grade 1 students are also diving into the necessary phonology by working on learning their short vowel sounds!
The primary students at my school are learning the spelling rules, practicing the phonology through vowel sounds, and exploring morphology in their classrooms… but it doesn't stop there! Ashley Beswick, one of our primary resource teachers, has put up the same visuals from many of our classrooms into the Learning Loft in order to use consistent language and lessons with the students who receive small group reading & writing support.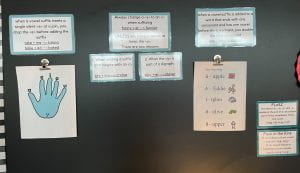 In my own classroom, I have had the privilege of moving up to Grade 3 with my students from last year! This has made it easy to continue on from where we left off last spring. We have been reviewing the spelling rules and suffixing conventions, while sprinkling in some new concepts and more word investigations!
Last year, we loved using word sums to learn about the suffixing conventions… This year, we are learning all about word matrices!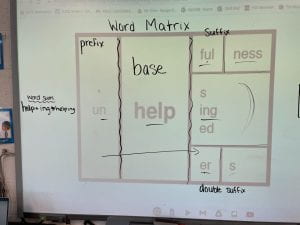 … and this is just the beginning! We will continue do+ing and spread+ing the ways of Structured Word Inquiry throughout the walls of our school.