I can hardly believe that it's already almost the end of the school year. This is the time of year when all of the teachers reflect on their professional growth with their personal projects as well as their overall job performance. If you have been around here a while (look at me assuming that I actually have people who read my blog), you likely know that I have been diving deep into Structured Word Inquiry (SWI). I started learning SWI as my professional growth project last school year and it evolved into a prototype that I continued this school year. If you are unfamiliar with the work I have already done, please check out the blog posts that have been categorized under Structured Word Inquiry!
As I begin reflecting on my SWI Prototype and overall job performance / professional growth, I think it is best to keep these topics separate this time as an attempt to write an appropriately lengthed blog post (rather than a novel). So let's dive right into my SWI prototype!
This term, we wrapped up our investigations of suffixing conventions and I began to focus on the spelling rules that were suggested to me by Sharon Reichstein (my SWI mentor). The rules were taught through investigations and practiced through word work activities, as well as, journal writing.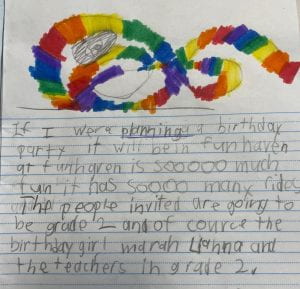 The rules we covered this term were Huge Bar of Fudge, Cindy the Cat, FLoSZ, and Hockey Rink (which Sharon and I will be renaming to "Puck and Rink" moving forward at our school). I created the visuals (pictured below) to use in our classroom in a variety of ways. They "live" on our Structured Word Inquiry wall, but we often remove them for activities (pictured above).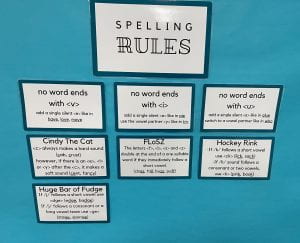 Here is a recorded (hyflex) lesson from one of our suffixing conventions. I used the "To Double or Not To Double" worksheet from Pete Bowers' Teacher Resource Book on Structured Word Inquiry. It starts with an investigation of various base words and how they change (or don't change) when adding various suffixes. We then identify the suffixes that force change and categorize the words that change with suffixes and the words that do not. This allowed us to identify differences in the base words in order to make hypotheses about the suffixing convention. Please note that I did attempt to shorten the video for the sake of sharing it online.
Now the most daunting part of this entire prototype… the data collection. While I enjoy consuming research, I have never been strong at conducting research (this continues to be true as I am currently working through my first M.Ed course all about Educational Research). In my last prototype reflection from the winter, I was slightly hoping that my excitement would blind my Head of School just enough for him to jump on board… it was not. Don't get me wrong, I believe that he is in fact pleased with my excitement and engagement with this project, but he does need to see the concrete data before we can determine if this is something that we should scale out at our school… and I need to do the data collection and analysis in order to successfully complete my prototype protocol.
My original plan was to gather monthly journals in order to show pre-test and post-test data. As this term went on, I continued to see some spelling errors related to topics we have covered (for example, <y> at the end of the word makes a long ē). I started to feel discouraged but I was reminded by my colleague and prototype coach, Melissa Thompson, that spelling errors are completely normal and developmentally appropriate at this age, even when the rules or skills have been taught. Even on maternity leave, Melissa was eager to help me brainstorm ways to show my students' growth and learning by annotating the journals and having students make corrections with small cues (i.e. underlining a word and saying think about the spelling rules or think about the long vowel sounds).


A simple underline worked as a cue for this student to edit her work.
The weekly journal writing often shows their learning and understanding of many of the rules and conventions we have talked about, however, I learned that only analyzing the data from journals was not enough to support scaling out this prototype. I am not always necessarily seeing the spelling rules that we have covered in class coming through in their weekly journal vocabulary. I have decided to implement other forms of data collection, for example, this Structured Word Inquiry Show What You Know (or as I like to call it, SWI SWYK). 

My students are already very familiar with the idea of a SWYK to show what we know and what we just need to review a bit more. (YAY! No testing pressure). I have also been using a simple exit card activity to give the students an opportunity to share how they feel about the rules with a quick knowledge check.
While this might not be directly pointing towards the pre-test and post-test data of learning and using SWI rules, I am proud to see such tremendous growth in my students writing in general. This was one of the main motivational factors behind trying out this prototype last year. I believe that using SWI to investigate words and learn how to spell has increased my students confidence and willingness to write!

In September, this student struggled to write this simple sentence. He required support in order to complete this one sentence. There were many challenges with confidence around writing and spelling. Flash forward to May and this student wrote these detailed sentences in half the amount of time – completely independently.
While we spent much of this term learning the spelling rules named above, we did still find opportunities to add questions to our "What are we wondering?" board. This board is often used to guide our investigations about words or phonemes that arise while we are in other subjects like Math, Science, or Social Studies. This is what Structured Word Inquiry is all about!!
We even found time this month to investigate the word derecho as it was being used to describe the big storm we had during the May long weekend.
Needless to say, I am still loving using SWI in my classroom and I am loving learning it alongside my students. The key here is that I am learning ALONGSIDE my students. I am by no means a pro at this (does the title of this blog post make sense now?). Moving forward, my hope is that I can continue to deepen my understanding, while slowly scaling out my prototype in order to help my incredible primary colleagues start to dive into SWI with their students. Just like our school North Star says, WE LEARN BETTER TOGETHER!
Speaking of North Stars, another one of our school's guiding principles is WE OWN OUR OWN LEARNING. I have seen first hand how my students get excited about asking questions and leading investigations, but hearing from parents about the impact of SWI outside of classroom is so incredible, exciting, and heartwarming. Here is a comment from a parent of a Grade 2 student,
"The "structured word inquiry" segment of Grade 2 has been a fantastic activity for my inquisitive kiddo. When outside of school he regularly asks where a new-to-him-word might originate, and will email Morah Lianna to add it to the next investigation. He also loves to share his newfound knowledge with other people. Did you know that 'derecho' is from Spanish? He does, and he'll gladly tell you all about it!"
Structured Word Inquiry goes beyond learning how to spell. Teaching and learning through with this method is helping these students develop their critical thinking skills that can be transferable to many other subjects.
---
I'd also like to use this blog post as an opportunity to publicly thank Sharon Reichstein for all of the support along this journey with SWI. Sharon ignited my passion for SWI and investigating words before the pandemic and she has been the best mentor ever since. Sharon is ALWAYS happy to chat in person or over text about different words we've encountered, she will answer ALL of my questions at all hours, and of course, she shares the best resources with me.