Intimidation filled my stomach when I learned about the Maker Space my school was building. I had played around in the uOttawa Maker Space a little bit through my B.Ed, but I never really envisioned working in a school with an innovative Maker Space. I was excited for the 3D printers, collaborative nooks, vertical non-permanent surfaces, and having my students build things (descriptive, I know). I never thought I'd be using the green screen to make a video with my students; let alone be the first teacher at our school to take on a project like this with the students.
During my weekly #2ndchat on Twitter, Michelle Kosieniak mentioned how she used a green screen with her Grade 2 students. We got chatting about some ideas and my brain couldn't stop swirling. All of a sudden, my intimidation turned into excitement. I had come up with an amazing idea to incorporate Word Read Aloud Day, Jewish Disability Awareness, Acceptance and Inclusion Month (JDAIM), and our brand new Maker Space. I just had to find the right
book to use and get our IT specialist on board.
I reached out to Madelaine Werier, co-founder of JOIN, for some book recommendations. Luckily, JOIN had just donated Just Ask to our school library. Check. Then I gave our IT specialist, Josh Max, a 15 second pitch of my idea (and came up with the title of this blog post) and he was in. Check.
As someone who has never been interested in cinematography or directing, the filming process was neat to be part of. I had to make decisions about having the students' full bodies in the shot (having them sit/stand on the green screen) or just cropping them from the waist up (having them stand in front of the green screen). Looking back now, it seems silly to even say that I had to spend time thinking and making those decisions, but I have never done a project like this before, so I wanted to get it right (and not waste any time having to reshoot clips). My students were very excited to be in the little filming room with a DSLR camera, rather than simply being recorded on our classroom iPads. It was such a treat to see their faces light up as I called them into the green screen room.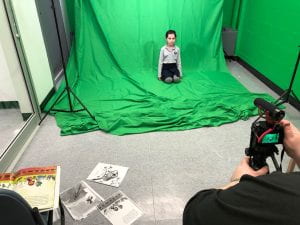 All of the editing was done by Josh Max (with my fantastic assistance). Watching him do the first few pages was overwhelming… so many buttons and steps and cropping, oh my! However, by the halfway mark of the book, I felt like I was getting the hang of it. It will be interesting to see if I can try to edit the next green screen project we do (of course with Josh's assistance). I have also connected with teachers in the states who use an app on the iPads for green screen editing. While it won't be the same professional quality as filming with the DSLR, it may be a way to have the students more involved with the editing process… something to think about for next time!
After 2 days of sitting in the tech cave (Josh's office), we were ready to upload the final project. Of course, I waited until Wednesday morning (World Read Aloud Day) to give my students the first viewing. They were so excited to see themselves come alive in the book! Right after they watched (and gave me their approval) we posted the video on our blog and twitter accounts. You can check it out below!
While the response from the parent body and OJCS faculty has been amazing, there is always room for reflection and growth.
After a quick chat with my Head of School, some things I am thinking about for next time are…
Length – the video is quite long for anyone in the general public to watch. I had originally intended for this to be simply for the classroom blog, but with the amount of shares it has received, I am cognizant that many viewers don't want to watch a 12 minute long video. For this project, Just Ask (although it is a touch long) was perfect. It taught my students about being unique and inclusive. However, it is something I am going to think about next time we do a video project.
Social Media Account – While I did upload the video onto my youtube account that is linked to my OJCS account, I should consider creating an account for my Grade 2 students (similar to our twitter accounts for 2A and 2B) in order to collect their videos and artifacts on a page that displays the Grade 2 class; rather than Lianna Krantzberg.
I will continue to reflect on my learning from this experience in order to support my next green screen/Maker Space project… but I also encourage you to leave a comment with some feedback in order to help me through my learning journey.